Deadly journeys: how despair drives young Ethiopians to flee to Yemen
News
               News
‍
Persecution and hardship in the Oromia region drives tens of thousands of migrants each year to cross the Red Sea from Djibouti, in a bid to reach the GulfGlobal development is supported by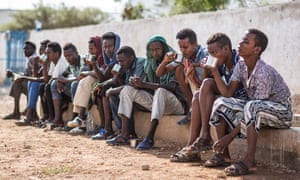 "We met in the desert," says Badru Mohammed, gesturing at his three companions. The four Ethiopian boys pause for breath and refreshment beside the road, grasping their plastic water bottles tightly as they sip, careful not to waste a drop. The Djiboutian sun is still low in the sky but the road is already hot. They have more than 200km left to walk and their plastic sandals are disintegrating.
Badru and friends are from Jimma, a poor farming district in Ethiopia's Oromia region. Over the past fortnight they have travelled more than 1,000km from their homes, first on buses and then later on foot, jumping the border into neighbouring Djibouti under the cover of darkness. When the group gathered in Dire Dawa, a town in the arid drylands of eastern Ethiopia a couple of hundred kilometres from the border, there were 20 of them. "Most are left in the desert," says Badru wearily. "They are very tired. I don't think they can follow us."
There are enough unburied dead to contaminate the water supply
The Djiboutian police estimate that around 200 Ethiopians enter undercover like this each day, trekking through some of the most inhospitable terrain on earth in the hope of reaching war-stricken Yemen, across the Red Sea, and eventually wealthy Saudi Arabia. In February IOM, the UN's migration agency, tracked nearly 17,000 migrants in Djibouti, most making their way northwards towards the coastal towns of Obock and Tadjoura; more than two-thirds were men and 8% were unaccompanied minors. The vast majority were from Oromia.
Overall, close to 99,000 people, mostly Ethiopians (and a much smaller number of Somalis), arrived on Yemen's Red and Arabian Sea coasts last year, up from 65,000 in 2013. Such numbers dwarf those migrating without documentation from the Horn of Africa toward Europe via the Mediterranean.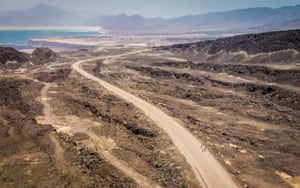 ‍
‍
SOURCE : THE GUARDIAN
‍
‍