Ethiopia is now Africa's fastest growing economy
News
               News
‍
‍
‍
Chris Giles
(CNN)Ethiopia, Africa's second most populated country, is forecast to be the fastest growing economy in Sub-Saharan Africa this year, according to new data from the IMF.Ethiopia's economy is predicted to grow by 8.5% this year. The figures signal continued economic expansion following a long period of impressive growth. In the last decade, Ethiopia has averaged around 10% economic growth, according to the IMF.To boost the economy, the country is pursuing a number of large-scale infrastructure projects, including the Grand Renaissance Dam and a railway network.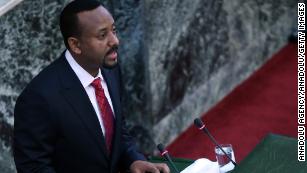 Ethiopia's parliament swears in new prime minister"(Ethiopia) has had a very high growth rate and I think that's a result in large part of a very concentrated effort by the government to boost industrial production and manufacturing," said Vijaya Ramachandran, an economist at the American think tank Center for Global Development (CGD).
However, despite sustained economic growth, in the past few years Ethiopia has experienced increasing unrest from Oromo groups in the Oromiya region. According to human rights groups, the government has suppressed basic rights and freedoms.New Prime Minister Abiye Ahmed was sworn at the beginning of April, signaling an intent to ease tensions.Economic growthIvory Coast is expected to be the second fastest growing economy in the region at 7.4%. Rwanda's estimated economic growth is 7.2%, and the West African country Senegal is projected to have 7% growth.The data reveals that Ghana, which was previously forecast as the fastest growing economy in Sub-Saharan Africa in October 2017, at 8.9%, slowed in its predicted growth to 6.4%. Last year, a reported surge in oil and gas production helped propel the country's economy.
SOURCE : CNN