Ethiopia Oromia leader's political capital shoots after release from detention
January 31, 2018
               News
Abdur Rahman Alfa Shaban
Dr. Merera Gudina a leading opposition voice in Ethiopia continues his political engagements across the Oromia regional state.
Thousands turned up to greet Oromo Federalist Congress (OFC) leader over the weekend in the town of Ambo in the state. Exclusive materials shared by the Addis Standard portal showed how people from all over turned up at the Ambo national stadium to catch a glimpse of a political hero.
On his part, Gudina is reported to have thanked the people for pouring out in their numbers to meet him and also for their unwavering support during his incarceration. The largely peaceful event lasted a few minuted the Addis Standard portal added.
Key dates in Gudina's political ups and downs
December 1, 2016: Arrested after arriving from European visitDecember 30: Appears in court, denies terrorism linksFeb 23, 2017: Charged with terrorismLater in the year, terrorism charge downgraded to multiple criminal chargesJanuary 17, 2018: Charges dropped, released from prison. Oromia eruptsJanuary 25: Meets German and U.S. embassy officials in Addis AbabaJanuary 28: Returns to stronghold of Ambo to massive welcome
Addis Gazetta@addisgazetta
#Ethiopia : A hero's welcome to Dr. Merera in #Ambo
12:47 PM - Jan 28, 2018 33 Replies 2626 Retweets 4040 likesTwitter Ads info and privacy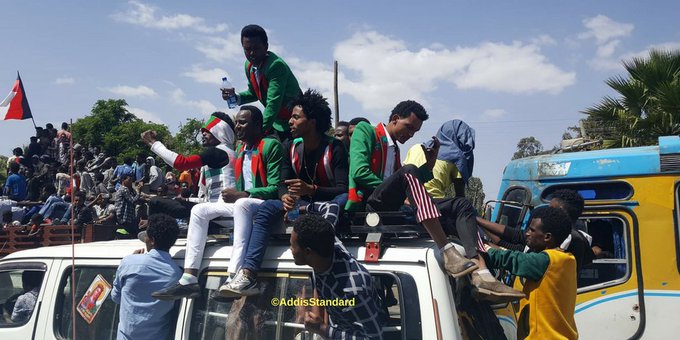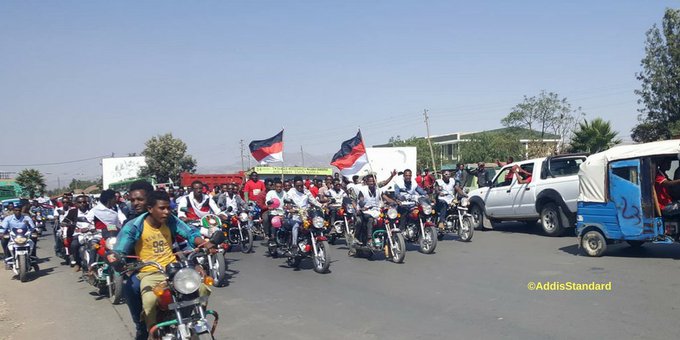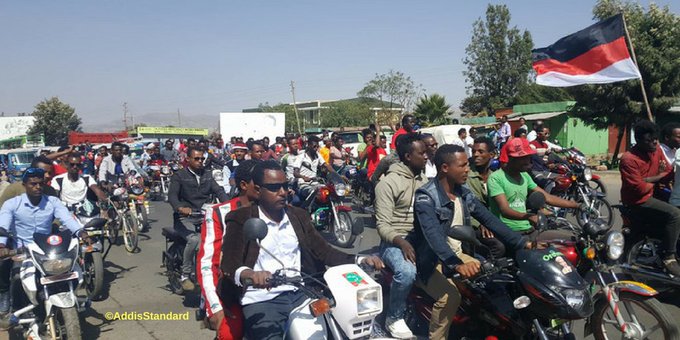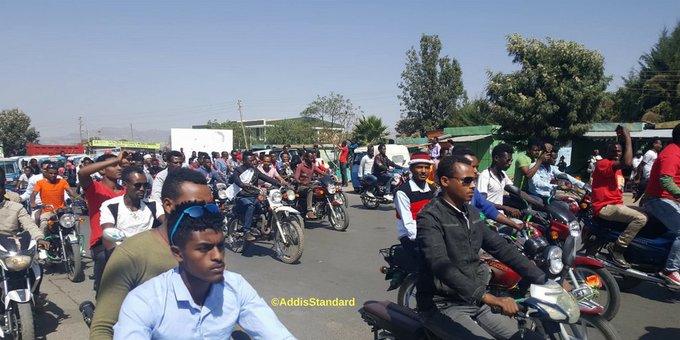 Addis Standard@addisstandard
Exclusive Pictorial: Ambo crowd gives Dr. #MereraGudina a hero's welcome - http://addisstandard.com/pictorial-ambo-crowd-gives-dr-merera-gudina-heros-welcome/ … The program at Ambo stadium lasted only few minutes, but Dr. Merera used the time to thank the people and the police for peacefully coordinating the massive turnout to welcome him
9:05 AM - Jan 28, 2018 Replies 4343 Retweets 7878 likesTwitter Ads info and privacy
28 Jan
Addis Gazetta@addisgazetta
#Ethiopia : A hero's welcome to Dr. Merera in #Ambo pic.twitter.com/BdHo9Q6aep
Addis Gazetta@addisgazetta
12:51 PM - Jan 28, 2018
‍
Beside his party political engagements, Gudina has undertaken significant diplomatic discussions. Late last week, he met with German and United States embassy officials to discuss political developments in the country.
The the over 400 days that he was held on multiple criminal charges, Gudina became the center piece of opposition defiance against the government.
He was also a constant name in diplomatic calls for Addis Ababa to release political prisoners and to open the political space. The European Union Parliament, U.S. lawmakers and rights groups continued to drum the call for his release.
Early this year, the ruling coalition announced a plan to release a certain category of politician prisonsers as a sign of fostering national unity. Of the over 500 detainees whose cases were dropped, Gudina was the center of attraction.
He has since stated publicly that it was in the interest of the government to follow through with promised political reforms. According to him, refusal to heed the call for true national dialogue will slip the country back into state of protests.
SOURCE : AFRICA NEWS